Taxes
Republicans vowed to cut TAXES to help Georgia families -
State, personal and corporate income tax rates will be cut from 6% to 5.75 in 2019 and 5.5 in 2020. This provides the first state income tax reduction since implementation in 1934.
As your State Representative, I will work with the Republican leadership to continue to pass relief measures like this for Georgia's working families.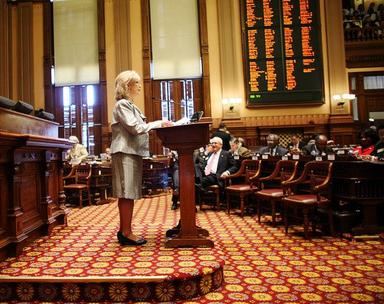 Transportation
I have visited many of our Gwinnett citizens to get their opinions on transportation. People told me they would take public transportation if it were more available. It needs to be easily accessible and an attractive alternative to driving. Questions on Transportation will now be on our March ballot to get your input.
Light rail and other innovative alternatives are important. Neighboring states recently took advantage of federal funding because of plans for rail transportation.
Solving Gwinnett's traffic woes is a matter of setting priorities and good planning. The overpasses on 316 have been a blessing, but they are a beginning. Incentives for innovative transportation would keep us competitive. More good jobs will come to Gwinnet with an easier commute.
Traffic relief is a must to attract industry- Gwinnett has the potential become the technology and film industry center of the southeast.